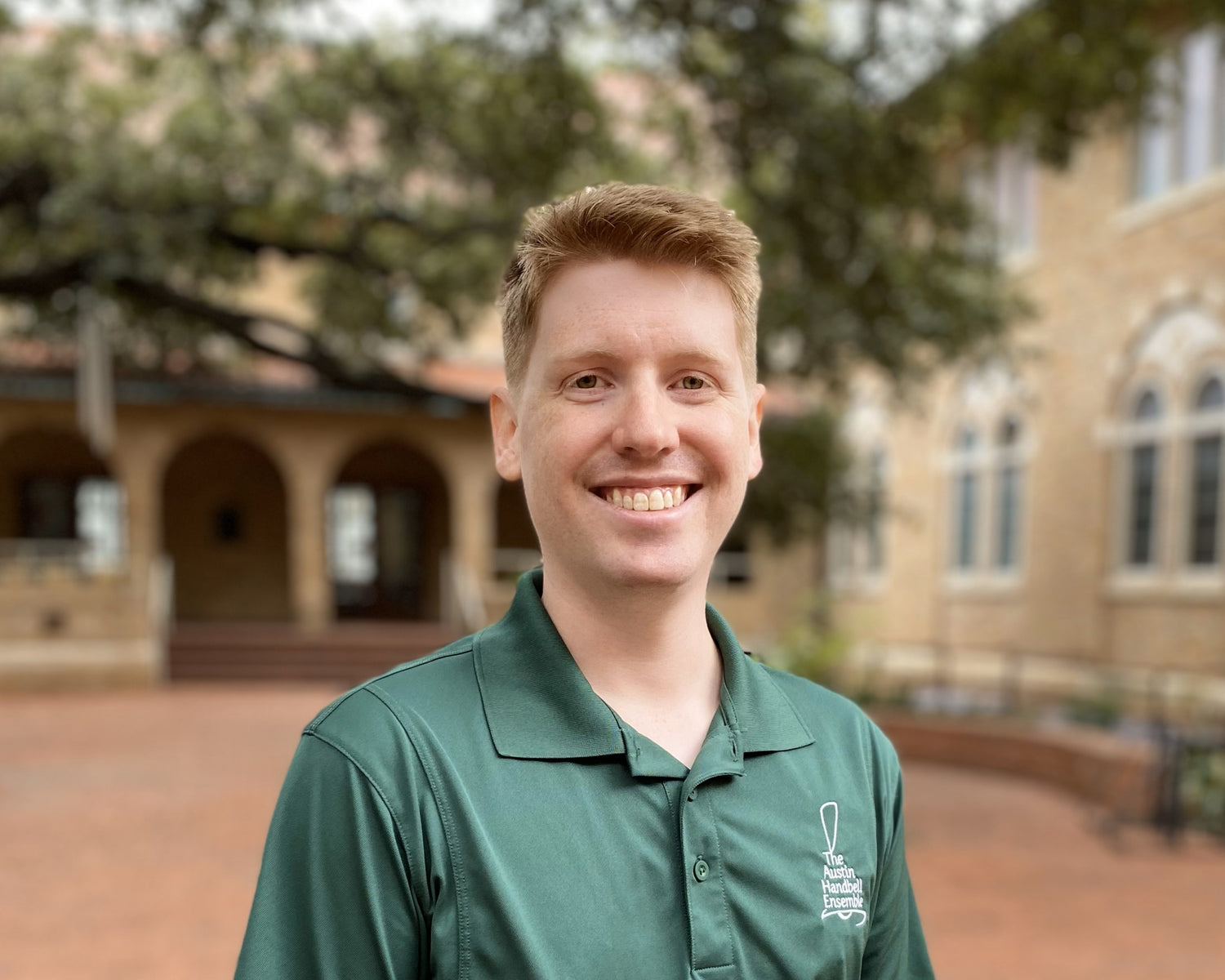 Matt Arnold
Matt began ringing handbells in 2006, and it has been an important part of his life ever since. He attended Baylor University, where he studied computer science and was a member of the Baylor Bronze as well as the Baylor University Men's Choir and the Golden Wave Band. Matt currently works as a software engineer for The Home Depot. In his free time, Matt enjoys cycling, spending time with friends, and playing or watching soccer.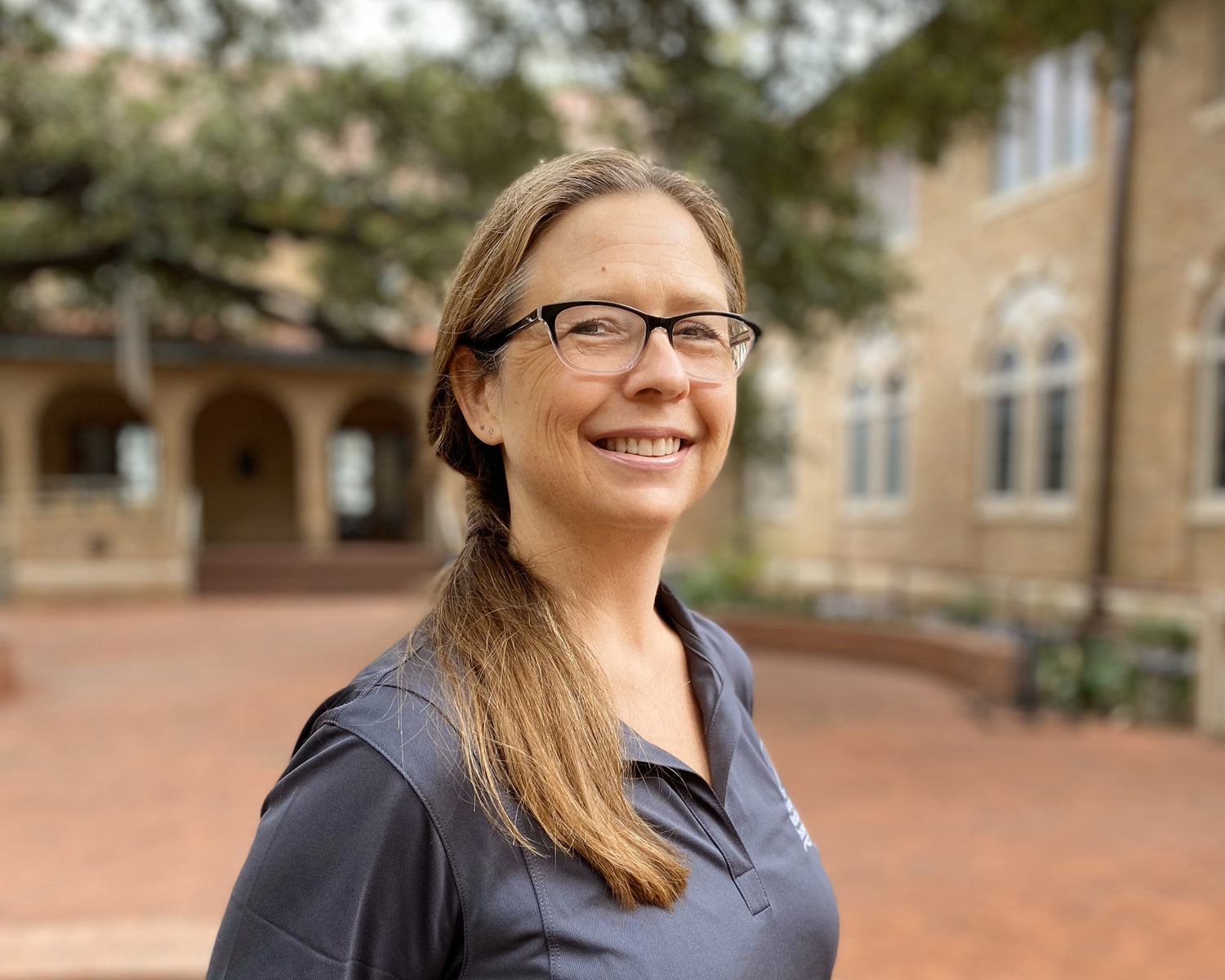 Lori Balkum
After learning the piano at a young age, Lori extended that love of music to handbells in Middle School. Oboe, saxophone, and other instruments followed. After taking a break during college (the MOB at Rice University kept her busy!), she returned to handbells while her kids were young. All rang bells until they left for college, and she even convinced her husband to ring for a while! Lori has directed childrens chimes as well as adult choirs at multiple churches, and she rang with the Coucil Oak Bells of Round Rock for 20 years. In her free time she enjoys spending time with her 3 grandkids, traveling, gardening and long-arm quilting. Lori joined AHE in 2022.
Cherrylynn Burris
Cherrylynn began playing handbells in elementary school and other than a few breaks has been a part of various school and church choirs ever since. She joined AHE in the Spring of 2019. Cherrylynn grew up in Indiana and has been in Austin since 2005. She is a social worker, wife, mother, volunteer, and traveler. When not driving around her daughters to all of their activities, she is most happy to be found curled up on the couch with a book, a cup of tea, and her dog or watching a movie with her family.
Elizabeth Avant Gilligan
Elizabeth is Austin-born and a graduate of The University of Texas with a Bachelor of Music in Choral Studies. She taught elementary music for six years. Elizabeth has many years of experience in church music – ringing handbells, singing in three choirs and teaching a children's choir. Elizabeth joined AHE in 2010 and yes, she is related to the director! In 2014 Elizabeth opened a home studio where she teaches piano to school-aged children. She and Colin have two young children together – they're future ringers, of course.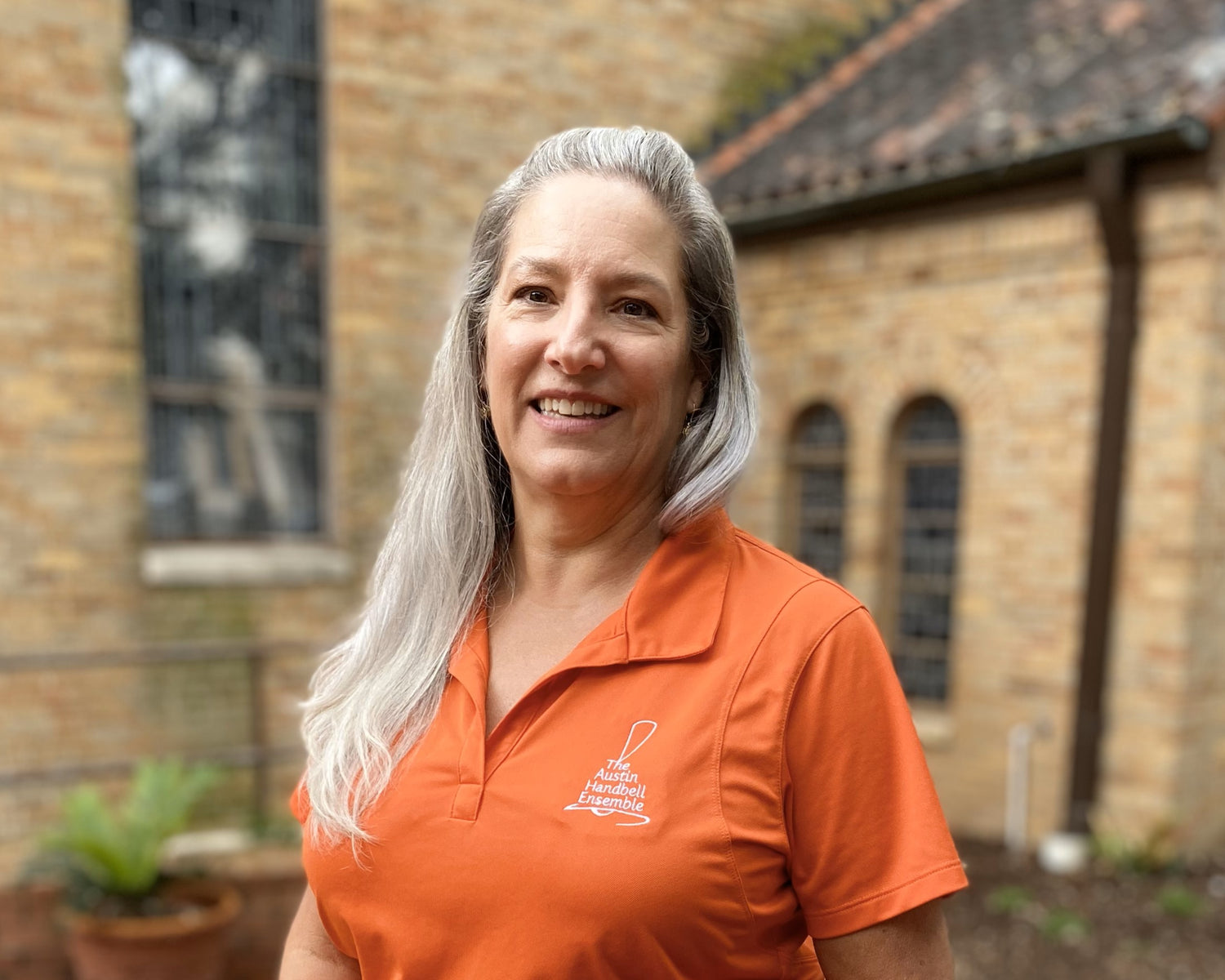 Alyson Gindler
Alyson comes from a musical family and background, having played multiple instruments throughout the years, including piano, violin and cello. However, flute and piccolo is where she finally found a home, and she played happily there all through college as a member of The Longhorn Band at The University of Texas. After moving to Georgetown, she discovered handbells at FUMC and has been ringing off and on there for over fifteen years. Alyson currently works as an RN for a consulting firm on a large project for the state of Texas. In between work and ringing, she is completing her Master's degree in Healthcare Informatics, reading for pleasure, and hanging out at the ranch with her family.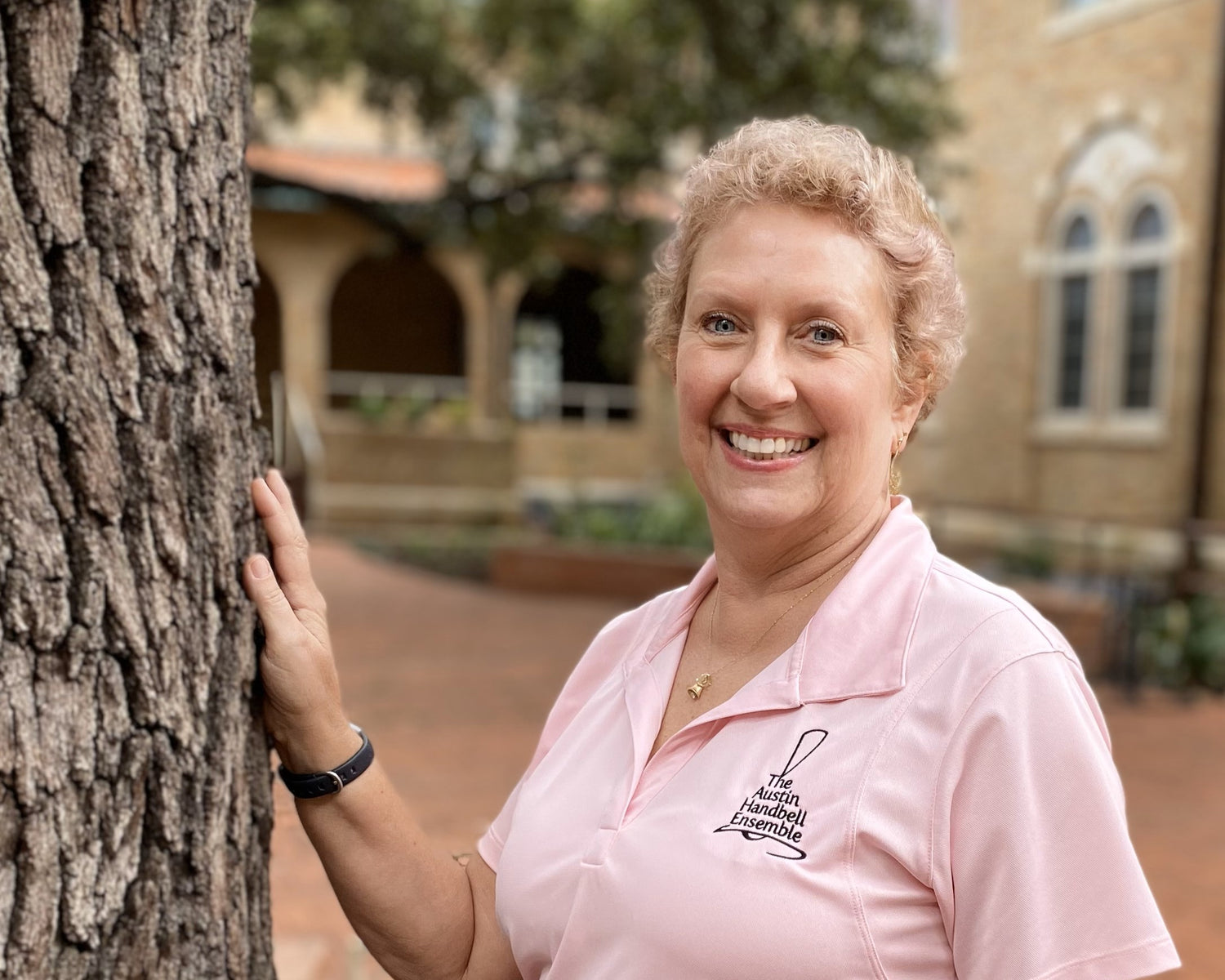 Teresa Jessani
Teresa fell in love with music while playing the flute in middle school. 10 years after graduating high school, she played flute with the Austin Symphonic Band for 5 years. She learned to play handbells at Oak Hill United Methodist Church before joining the AHE in 1999. After a several year hiatus, Teresa rejoined the AHE in 2023. Besides playing with the AHE, she also plays handbells and flute at Round Rock United Methodist Church. She is married to Romesh and they have two daughters. She also has two grown sons, both living in Austin. Teresa loves animals and has 4 cats, 4 parakeets and a very spoiled dog.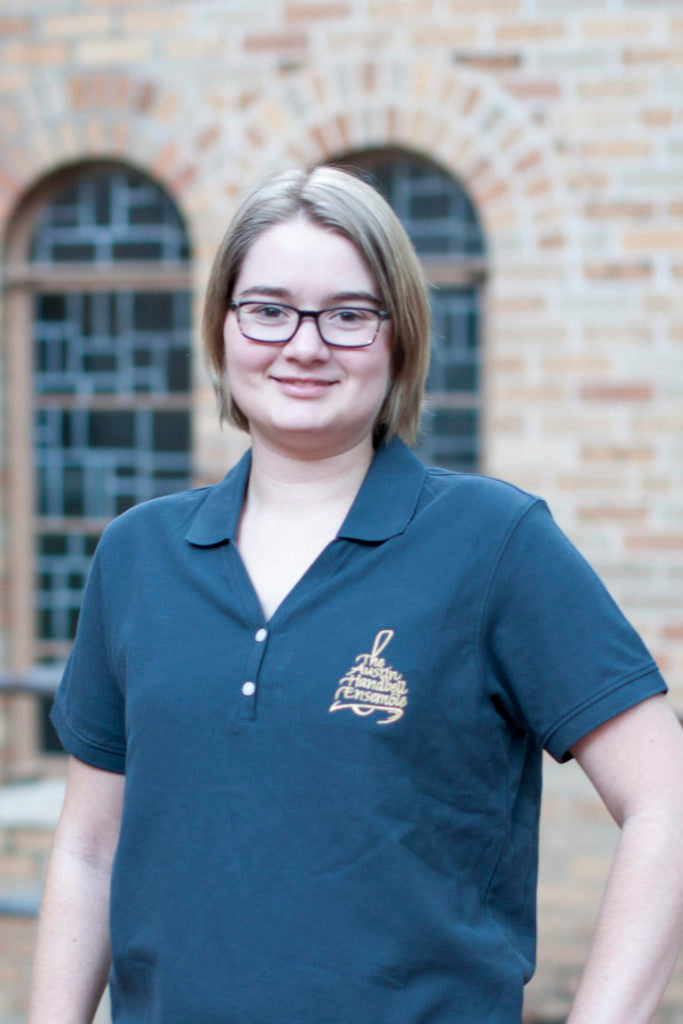 Genevieve Ketcham
Genevieve began ringing in 2014, rang with the Trinity Handbell Ensemble while at college at Trinity University, and after graduating joined AHE in the fall of 2019. She was born in Austin, only leaving to study in San Antonio at Trinity University and graduate with a bachelor's degree in Music Composition and a minor in Medieval and Renaissance Studies. She plays piano, clarinet, and has studied voice and currently sings in the All Saints Episcopal Church choir. In addition to playing and composing music, she also enjoys reading, art, playing games, and watching anime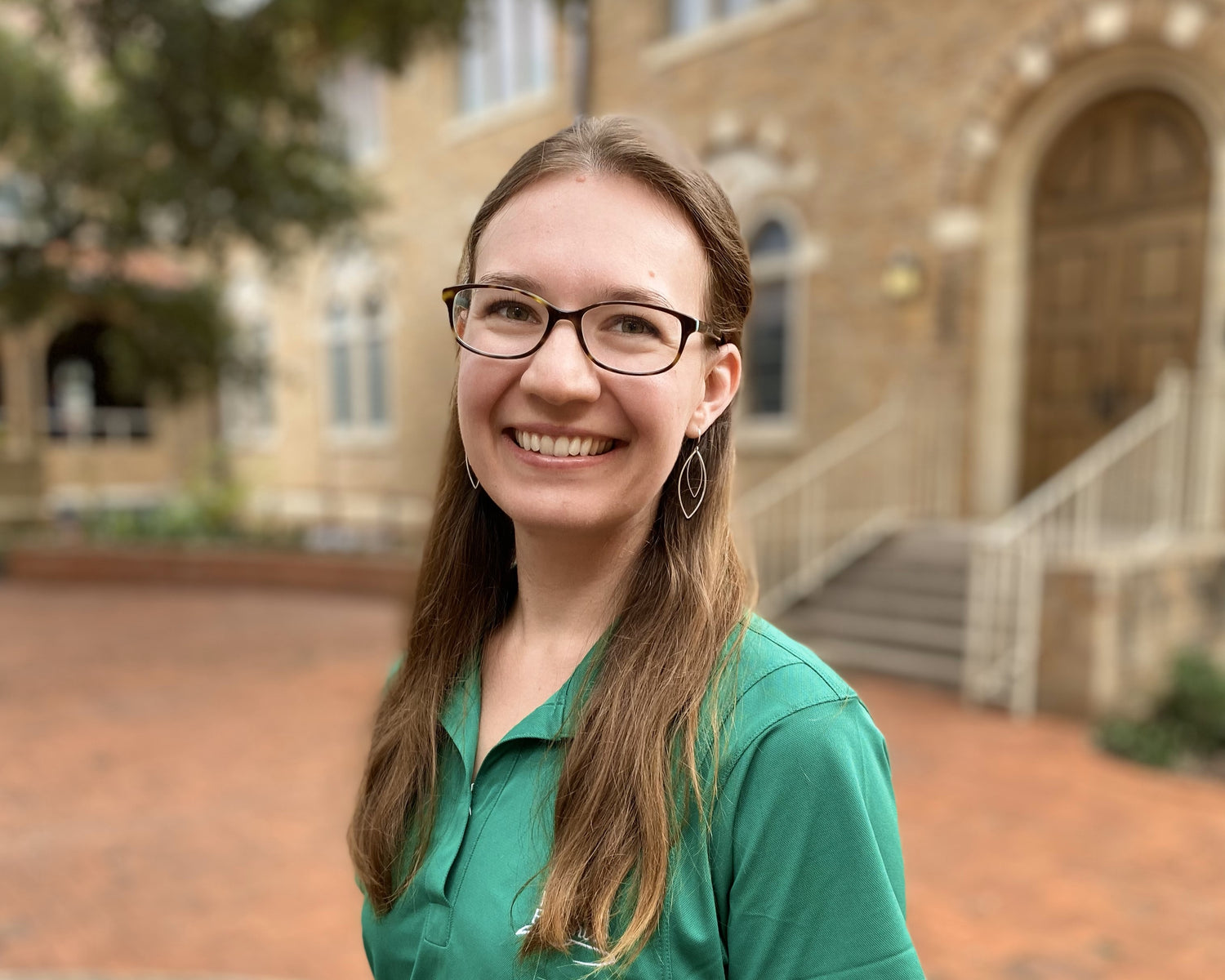 Lauren McBane
Lauren wanted to play handbells ever since she first heard them in a church service. However, she was not able to fulfill that dream until 2011, when she joined the beginning handbell choir at Lilburn FBC. That one choir multiplied and Lauren soon found herself recruited to ring with the Atlanta Concert Ringers in 2015. She moved to Austin in 2016 for her husband, Sean, to start a PhD program at UT and joined AHE in 2017. Lauren currently stays at home with her daughter, Fiona, who arrived in September 2018. When not ringing, Lauren enjoys cooking, cross stitching, reading, and spending time with her family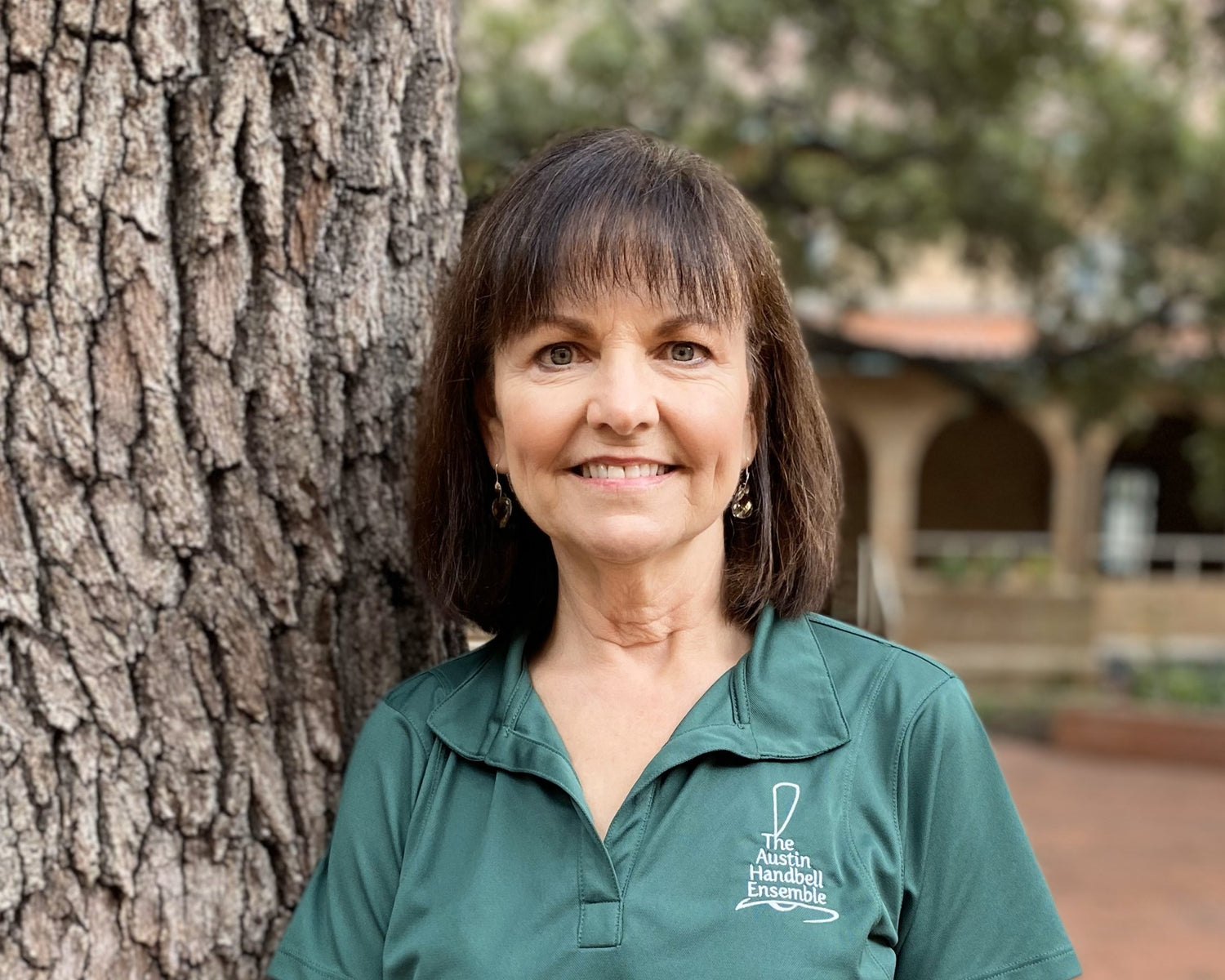 Bethany McMillan
Bethany has played off and on with AHE for 17 years. She grew up in Austin and graduated from University of Houston where she met her husband of 43 years, David. They love having their children and grandchildren living close by and spend a lot of time in the roles of "BB and Grandpa". She works as a Registered Nurse at Austin Gastroenterology and frequently reminds us how important colonoscopies are for anyone 45 years of age or older. When she's not working or playing handbells she can be found playing Mah Jongg or pickleball. She and her husband love to travel and hike.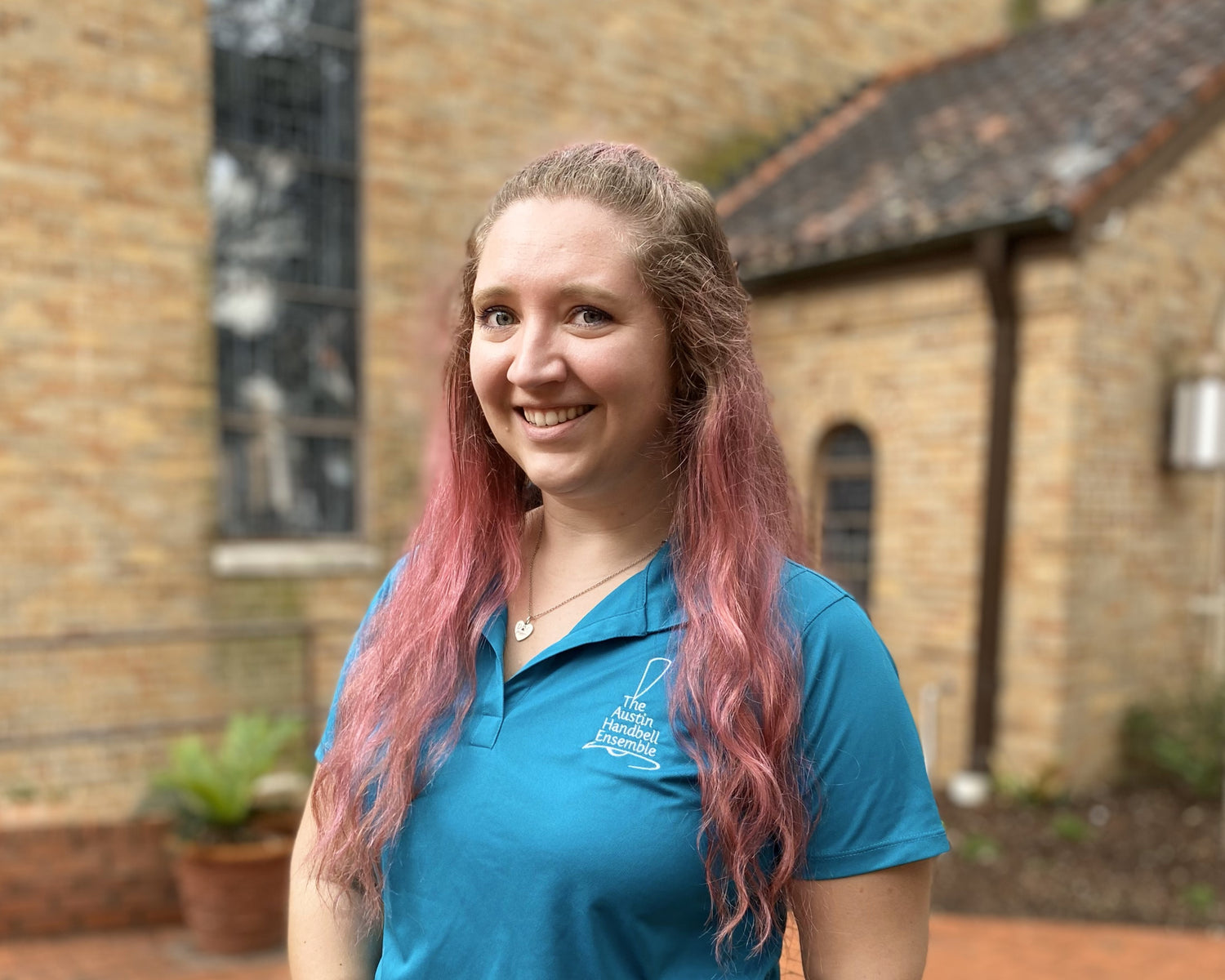 Dlaine Miley
Dlaine started ringing in elementary school and was a member of various church and community ensembles before joining AHE in the fall 2019. She attended Baylor University where she was a member of the Baylor Bronze and Golden Wave Band. Dlaine graduated from Baylor with a BBA in media business and MS in information systems and currently works as a cyber security engineer. Dlaine is an avid knitter and lover of pop culture who can usually be found catching up on superhero TV shows with her Mini Schnauzers Leo & Bentley.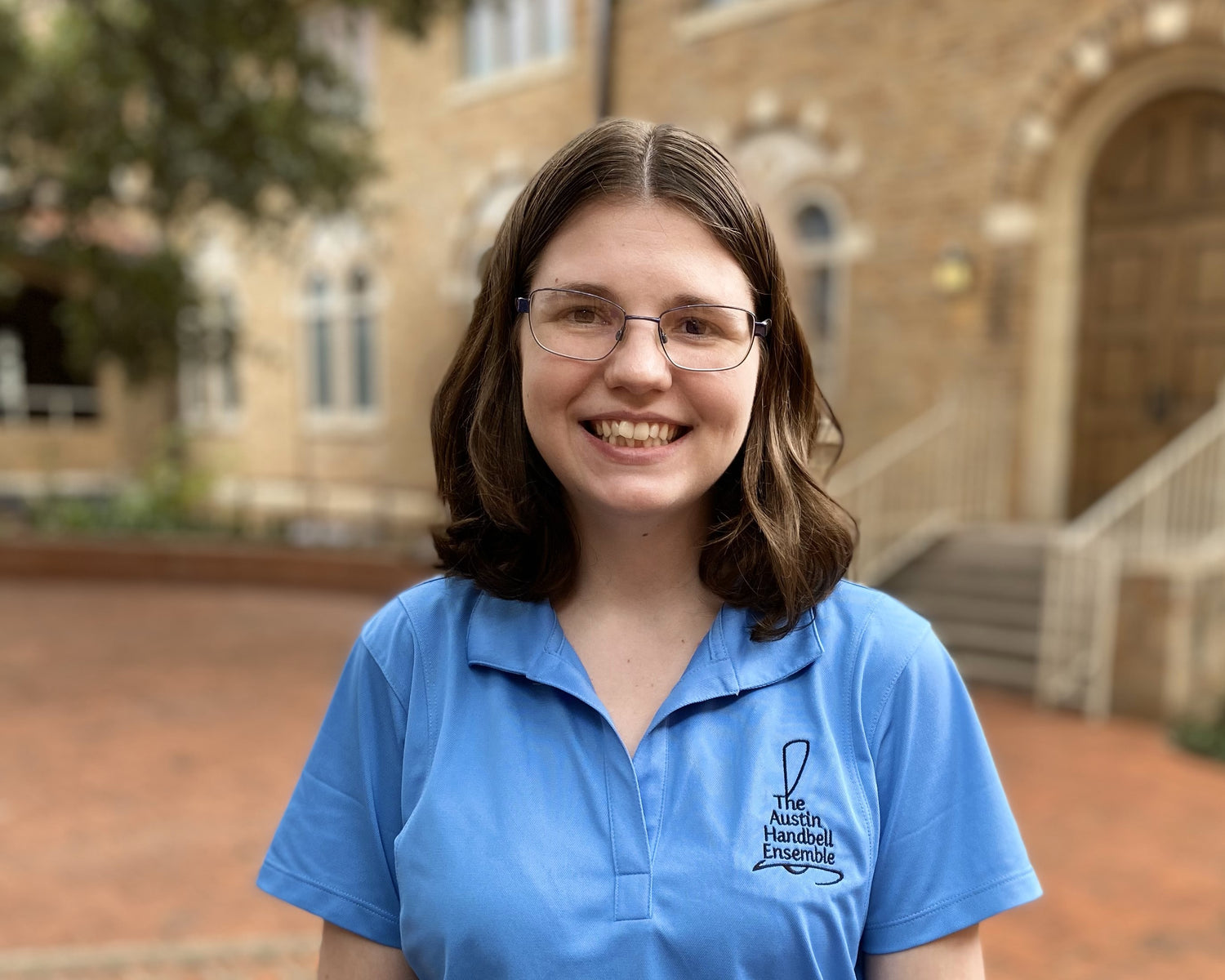 Kimberly Orr
Kimberly was born and raised in Austin, Texas and came running back to the warmth after going to college in Northwest Indiana. Kimberly discovered handbells in 2009 in her childhood church's handbell choir and continued playing with the Valparaiso University handbell choir. Kimberly joined AHE in 2019 after moving back to Austin. Kimberly's musical background also includes piano, oboe, and english horn. Outside of bells. Kimberly is a Data Engineer. When not ringing or working, Kimberly enjoys doing various crafts and spending time with her partner and two cats.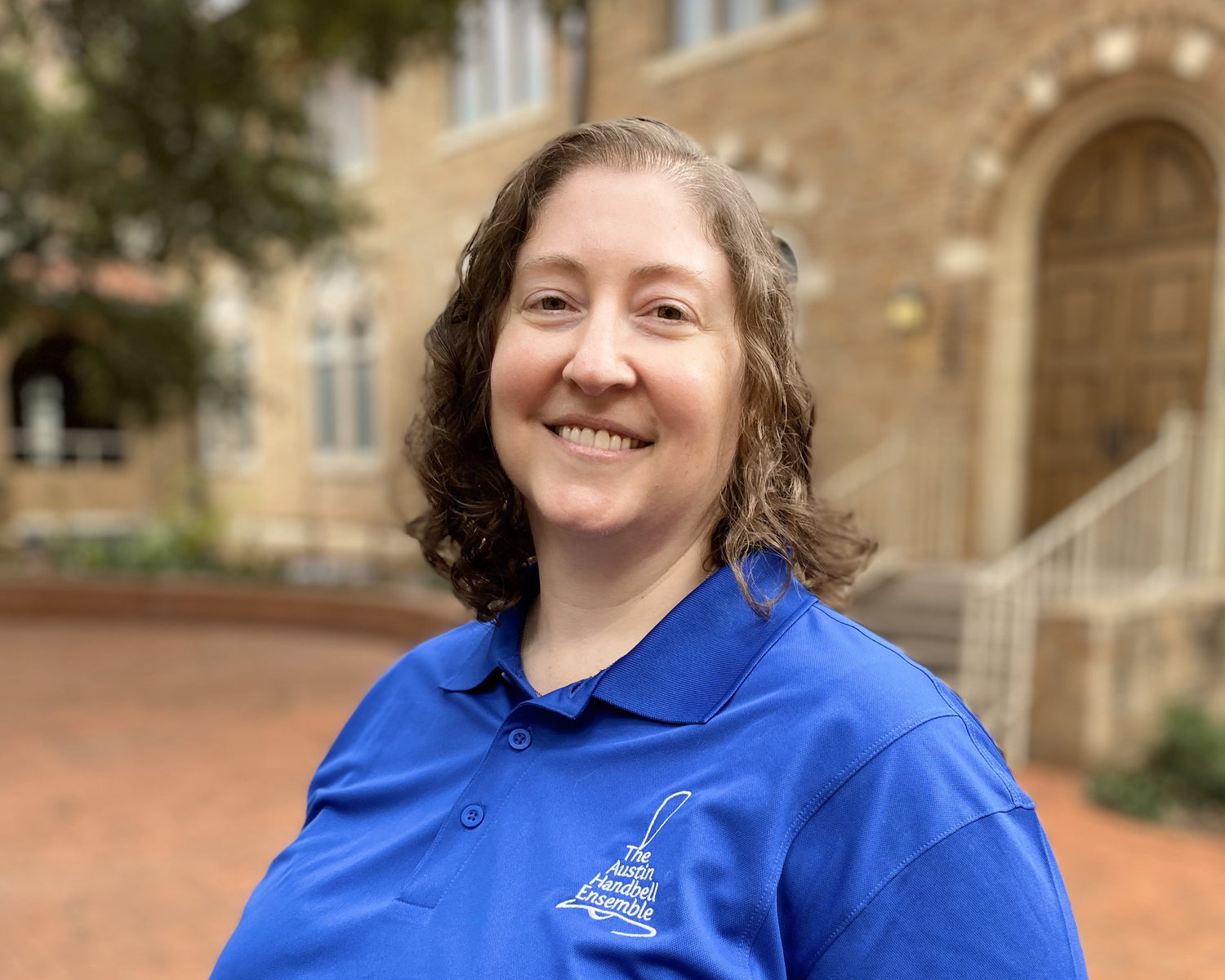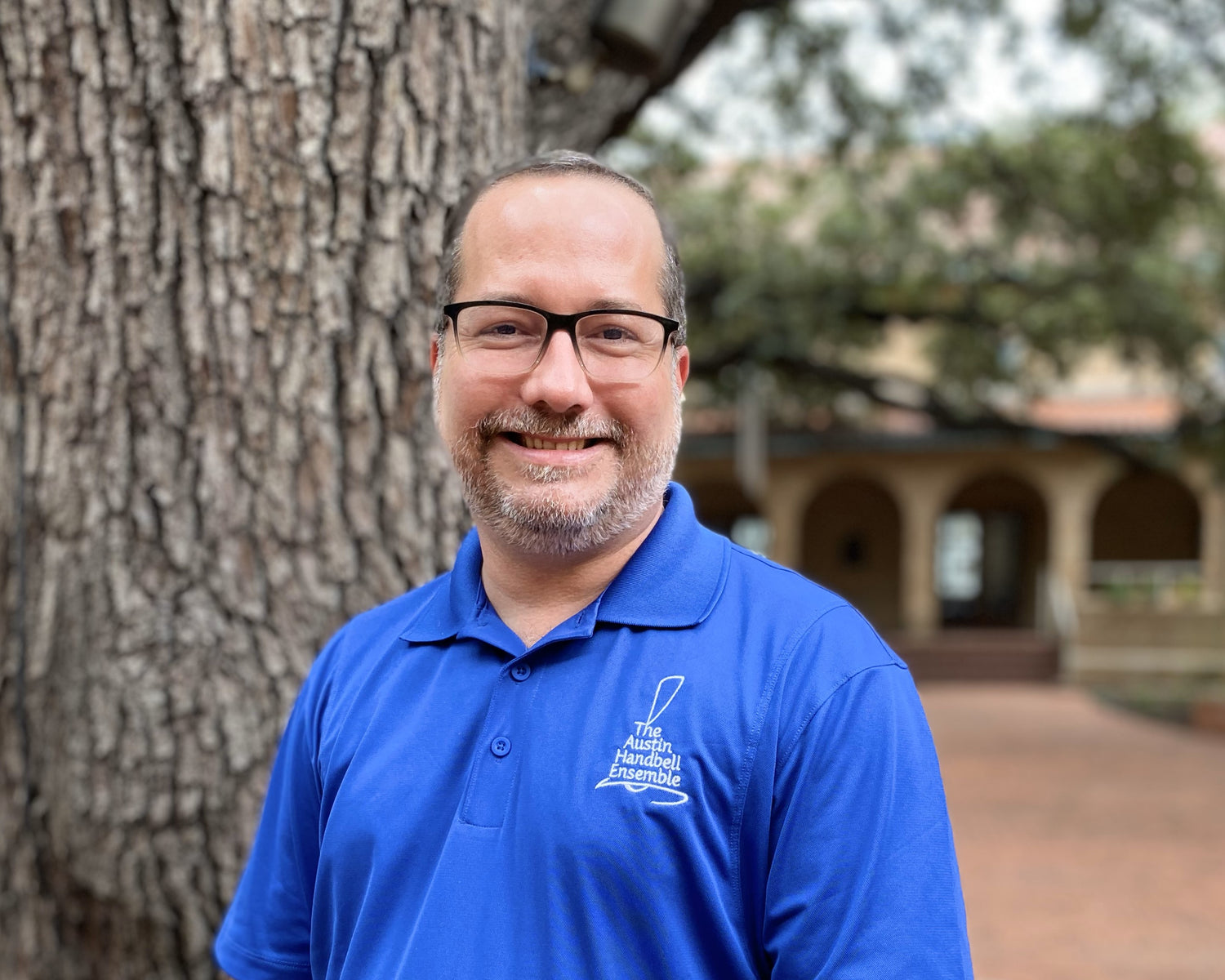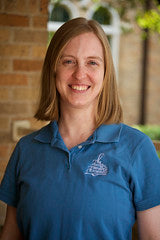 Laura Teinert
Laura joined AHE in Fall 2011 after ten years of playing in church handbells. Her musical background also includes flute, bassoon, and drumline. Laura has bachelor of accounting and master of business administration degrees from Western Governors University Texas and works in commercial real estate accounting. She enjoys Longhorns Baseball, knitting, sci-fi, and her Mustang GT. She lives in Round Rock with her three cats: Kara, Kaylee, and Karl.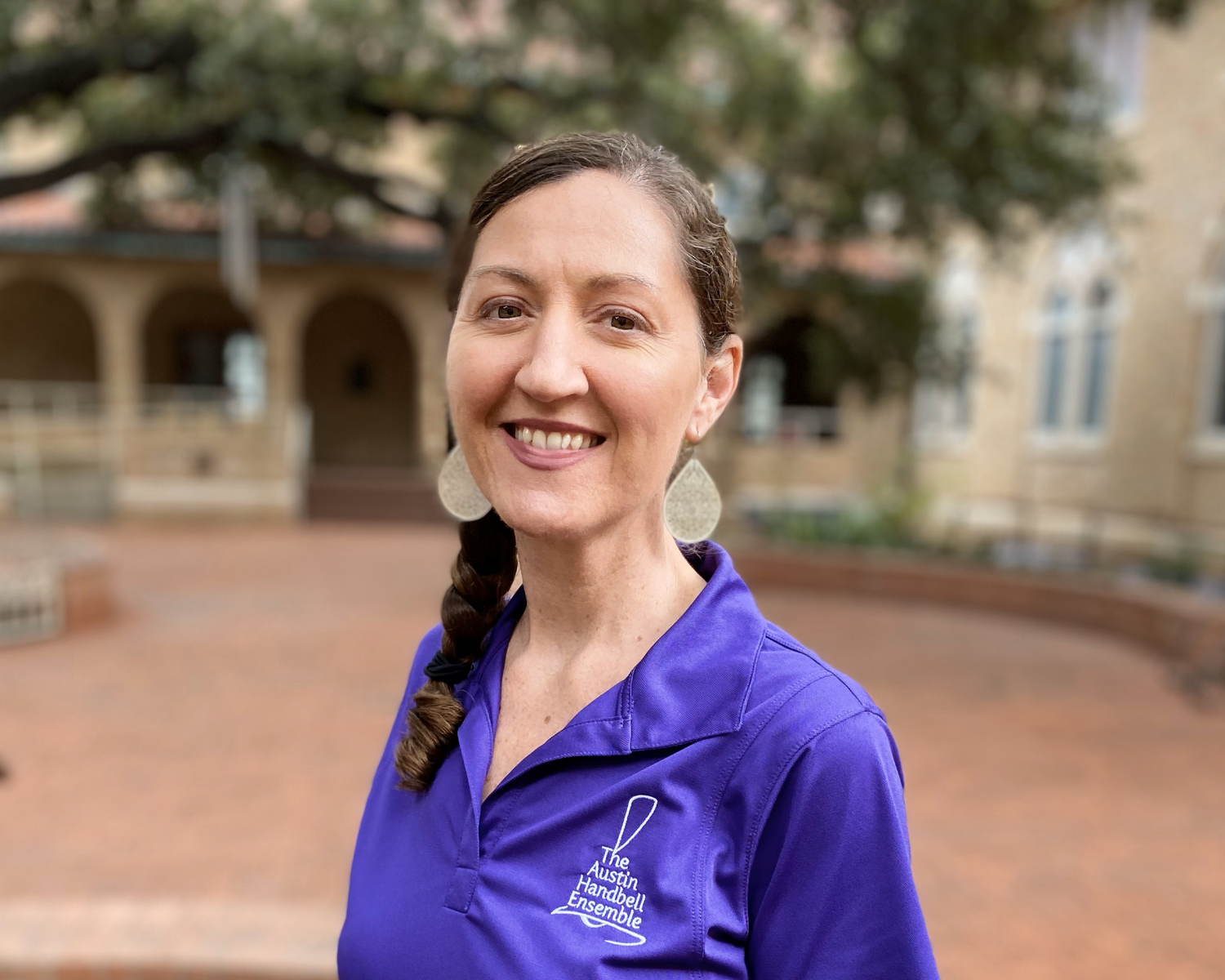 Amy Whiteaker
After learning to play handbells with the Baron Ringers at Brewton-Parker College in Georgia, Amy fell in love with handbells and was thrilled to join AHE in 2013. She moved to Austin to attend graduate school at UT in 2006 and has lived here ever since. Amy loves to travel. She has backpacked around Europe and she lived in Prague for seven months while teaching English as a Second Language. Currently, she spends her days teaching middle school science and high school biology, and her nights and weekends with her family.